The beauty world is a very exciting place where trends are constantly changing or returning. Beauty has always allowed us to discover, test and learn from different trending looks. The fun begins in the unlimited choice we have in how we present ourselves. It appears that the theme of 2017 for the beauty stage is to be totally fearless and boy oh boy has this fearless craze stirred up some interesting looks.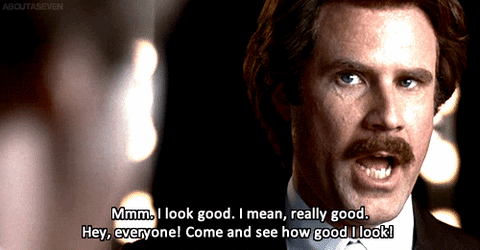 The power of social media has allowed beauty trends to go viral across the world with many new transforming looks reaching many social media users. Instagram hashtags and nomination challenges as well as YouTube makeup remake tutorials have created a whole new game for what was once known as the simple classic 'makeup'. Some of these new looks are defying the norms by introducing odd yet wearable makeup that'll have heads turning and artists applauding.
Change in any creative form has always been super fun and empowering and whether they're a hit or a miss it always seems to intrigue many beauty lovers. So to all the makeup artists, makeup addicts and fellow side-line-watchers-of-crazy-makeup trending looks, behold some of the latest crazy looks.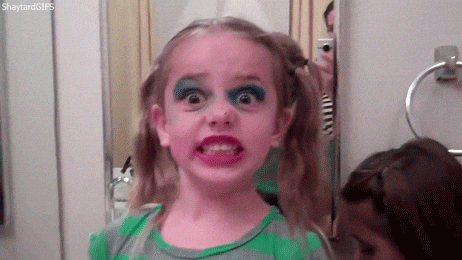 Squiggly Eyebrows
This look first emerged when a makeup artist decided to do an eyebrow challenge, which resulted in curling the ends of the brow. Shorty following this challenge, a whole new wavy brow look was sparked and flooded almost every single Instagram beauty page. More recently, Snapchat has even created a filter for this squiggly eyebrow look. Not too sure what we're talking about? Just have a quick look on YouTube and Instagram and you'll be intrigued.
Faux Freckles
Ever got teased about having freckles? Well the beauty world has some good news for you. Faux freckles have been trending for a while now, with many creating makeup tutorials on how to create realistic impressions of them. This unexpected look became so popular that there's an actual website that specifically caters for it! Check out 'Faux Freckle' for different freckle palettes!
Overdrawn Lips
Yes this has been something that's been trending for a while now but we couldn't resist adding it to the list. You are entitled to agree or disagree but this trend significantly hit the beauty stores after Kylie Jenner's controversial lip injected look became a 'thing'. If you wish to create a natural look for plump lips, lip liner and a matte lipstick are your go to tools for this look. Lip contouring and highlighting is now also part of the process of faking big lips. Youtube has over thousands of different tutorials on how you can achieve this look.
'Deadly' Nails
Ever thought that your manicure was too repetitive or just simply required a bold upgrade? Well… we have some scary news for you. Next time you kill that spider creeping in your room, you might want to consider saving its little hairy corpse because this new nail trend has some seriously strange ingredients! Originating from Mexico where dead scorpions were first used as nail art ranging from different sizes and styles, this has now dared some of the most modern nail salons to cater it. Melbourne's very own 'Deadly Nails' nail technician – Miss Nicole, has mastered this bizarre trend with some of her work including dead spiders, shed snake skin along with other creepy crawlies bits and pieces. With Halloween just around the corner, this might be a look worth considering if you're willing to be daring.
Glitter Tears
This look has been popular during more festive times with it first trending earlier in the year around the time 'Splendour In the Grass' was happening along with other international music festivals such as 'Coachella'. This look is super fun, bright and out there however the glitter mess will definitely take more than one day to remove especially if placed on your hair. Other glitter trends include glitter hair, lips, tongue and pretty much any other body part. Crazy?! yes we know!
Boob Masks
Facemask? No nope, forget that! It's time for a boob mask! You might want to update your night-time routine by incorporating this new boob mask procedure. It is 100% surgical free and requires only about 15-30 minutes of your time. These masks are used to help keep maintain good skincare and also includes anti-aging benefits. Amazon has a wide variety of different sheets and masks you can order, just be careful to double check the ingredients to prevent any allergy reactions and to select one that's right for your skin type.
Activated Charcoal
Whether you want to whiten your teeth or remove your blackheads or simply clear up your pores, this popular remedy has every beauty guru and lifestyle blogger obsessed! You don't have to spend money on expensive high end products to get that glowing-sun-kissed skin look when a little bit of activated charcoal can do the job. This is an all natural product that contains antibacterial and anti-fungal properties that helps absorb oil, debris, bacteria and other environmental pollutants that are on the surface of your skin. This is best used once or twice a week to avoid overuse and to prevent drying your skin out.

Ear Makeup
Once upon a time, Ear piercings and accessorising your ears with nice bling were the norms. Today, ear makeup is one of the latest trends going around right now. This trend first surfaced the Internet after models on the runway sported different colours and material on their ears. Instagram bloggers as always were quick to catch this look and play around with it using glitter, body paint, contouring or highlighting and the list of creativity goes on. Click here to browse some ear art tutorials on YouTube.
This year's weird beauty trends have definitely been wild and whether these looks have inspired you or made you think no thank you, there is no doubt that this is just a glimpse of what's yet to come in the future for the beauty world.