The Los Angeles Lakers claimed 35 wins in 2017-18 to finish 11th in the Western Conference. A disappointing season from a results standpoint but one that was full of promise. The team finished in the top half of the league for both points per game and defensive rating whilst finishing second among all teams for pace. The promising signs stemmed from a young roster that provided plenty of highlights throughout the year and fans should be hopeful that they stay together for years to come.
The players' individual seasons will be ranked below based on statistics, potential and how they either surpassed or failed to live up to expectations.
Honourable Mentions
Many players that did not qualify for the list deserved to be mentioned for the role they played, regardless of how big or small it was. Early season signings such as Briante Weber or Steven Zimmermen turned out to be futile as the youngsters suited up for only preseason games. Ten-day contract players such as Nigel Hayes also didn't make it into the list after his two-game, 11-minute career as a Laker. Vander Blue (five games) initially looked like he was set to step up after his early season signing but spent most of the year in the G-League, as did Gary Payton II (eleven games). The likes of proven NBA stars Channing Frye and Derrick Williams also fail to make the list as they were signed too late and provided too little to be included.
Traded Away
It may go down as the turning point in the Lakers' fortunes but losing Jordan Clarkson and Larry Nance hurt many fans at the time of the trade. Despite the fact the transaction with the Cavaliers generated a wealth of cap space and brought Isaiah Thomas to the LakeShow, it had its downsides. Fan favourites and honest hardworking players in Clarkson and Nance were the unfortunate by-products of Magic Johnson's delusions of grandeur.
However, their contributions are far too great for them to be recognised as merely the steak knives in a trade centred around money. Laker fans did not see Clarkson and Nance as just part of the future, they were the future, set to provide spark and energy alongside future stars of Ingram, Kuzma and Ball. Ultimately it was not to be and the Lakers will now look to their other young stars to carry them into the future.
Player Rankings
Kyle Kuzma
Age: 22
Stats: 77 Games, 31.2 MPG, 45% FG, 16.1 PPG, 5.1 RPG
When the Lakers traded away former number two pick, D'Angelo Russell, for Brook Lopez and the 27th pick in the draft, Laker fans were understandably ropeable. Russell looked like he had the makings of a future star but after being traded away, Lakers President of Basketball Operations, Magic Johnson, explained that he "needed a leader" and Russell was not the player to lead the Lakers into the future. That 27th pick had little fanfare on draft night when the Lakers selected Kyle Kuzma, the Utah senior predicted by many to go undrafted.
How wrong the critics would turn out to be as Kuzma had a rookie season to remember. Averaging an equal team-high in points per game, no one would have expected Kuzma to carry the Lakers through patches of the season. With teammates around him suffering injuries, Kuzma's workload increased drastically towards the end of the season. From the middle of March to early April, Kuzma averaged around 40 minutes a game and led the league in workload for a brief period of time. This workload likely caused the injury that saw him miss the last three games of the season but with the Lakers out of the playoffs, the team had no qualms in putting him on ice. In a year where the team was out of the playoff picture, Kuzma was the boost that Lakers fans did not see coming but desperately needed. He adds to the Lakers talented core to build around and looks like he will be a star of the future.
Brandon Ingram
Age: 20
Stats: 59 Games, 33.5 MPG, 47% FG, 16.1 PPG, 4.4 RPG, 3.9 APG
Brandon Ingram was incredible this year – when available. That was the story of the season for the sophomore, who would dominate in patches but then face lengthy spells on the side lines. It was frustrating for Ingram and frustrating for the fans who wanted to see him play on a regular basis. Nevertheless, in the games he played, Ingram was hands down the Lakers' best player. He may not have scored the most points on a given night but his impact went far beyond scoring. His size gives him an advantage in many statistical categories such as rebounding, blocks and steals, all of which made him a much more complete player this season when compared to his first year. The leap he made from year one to year two was most pleasing for Laker fans. Whilst there was never a fear that Ingram would be a bust, his first season was subpar for someone who was a dominant force in college and consequent number two draft pick.
This season he showed he wanted to be the focal point in the Lakers' offense, increasing his workload and, in turn, his output. When the Lakers were struggling, Ingram would find a way to hit buckets and bring them back into the game, his three-point shot improved drastically and his posterizers became a highlight that fans would see regularly. Ingram's improvement had Laker fans wanting more and he will arguably be the most exciting player to watch in 2018/19. The sky is the limit for Ingram.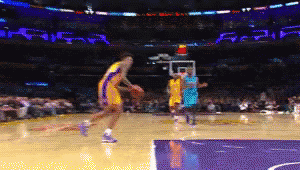 Julius Randle
Age: 23
Stats: 82 Games, 26.7 MPG, 56% FG, 16.1 PPG, 8.0 RPG, 2.6 APG
You could make the case that Julius Randle should be atop this list, on the basis of his late season production. After the all-star break, Randle put the injury-plagued Lakers on his back and was a big factor in the team's success in the second half of the season. As a scorer, Julius was unstoppable. Something must have clicked with the 23-year-old mid-season as he realised that his strength under the basket and post-move repertoire made defenders vulnerable. Fans had never seen Randle play with such desire to score and win. The power forward had often been criticised as being passive and playing with a lack of passion in his first years on the roster but his turnaround in 2017-18 was clear. It wasn't just his scoring as Randle improved his rebound and assist numbers and racked up numerous triple-doubles.
The likely reason for Randle's rise in intensity is due to him being on the last year of his contract. There were rumours that he wanted out, the Lakers wanted him out, he was trade bait and much more that all proved to be false. But the truth of the matter is that Randle is a free agent and can leave the franchise if they either don't offer him a contract or the offer is below par. The only thing that would stop the Lakers offering Randle a decent contract would be if they were to sign one or two big fish (Lebron James or Paul George) in the offseason. If they fail to claim either of the two stars, the organisation would be foolish to let their young star go. Unlike Clarkson and Nance, losing Randle could come back to hurt the Lakers as their depth at the power forward position would be lacking and he is likely to be a force on any team.
Lonzo Ball
Age: 20
Stats: 52 Games, 34.2 MPG, 10.2 PPG, 6.9 RPG, 7.2 APG, 1.7 SPG
There were many Lonzo Balls in 2017-18. There was the extremely talented, triple-double machine Lonzo, who looks to be a mould of a young Jason Kidd. There was the bust Lonzo, who couldn't score, a player that fans and media personalities jumped on at every opportunity to criticise. There was the injured Lonzo, who missed 30 games of his rookie season. There was the 'son of Lavar' Lonzo, who was always under pressure from his eccentric father. Lastly and most surprisingly, there was the rapping Lonzo, who dropped an album during the middle of the basketball season.
Each version of Lonzo was either loved or hated but, by being all these things, Ball achieved what he and his father both want – stardom. No rookie has ever been in the media as much as Ball was this season. His dad wants him to be the biggest star in the NBA and from Lonzo's social media accounts and song lyrics, Ball wants that spotlight too.
From a playing perspective, Lonzo's flaws are clear but there would be few flawless players in league history, let alone rookies. His upside outweighs these flaws and, with time, the young Laker will develop into a handy asset and possibly a star of the future.
Brook Lopez
Age: 29
Stats: 74 Games, 23.4 MPG, 47% FG, 13.0 PPG, 4.0 RPG, 1.3 BPG
Brook Lopez mirrored the consistency of his team, or lack thereof. At his best, Lopez was one of the top three-point shooting big men in the league. At his worst, Lopez would go long stretches and fail to rebound the ball despite his 7'0" frame and strength. At times, he would bring his best and his worst in the one game, evident by his performance on March 7.
That night, Lopez had an incredible stat line of 27 points and zero rebounds whilst also hitting the game winning free throws. It was the first time in NBA history where a player over 7-feet totalled at least 25 points and zero rebounds. A telling stat for a player who averaged over eight rebounds in his first two years in the league, highlighting a sign of the times for big men in the NBA.
Lopez reflects how big men have adapted to a league in which three-point shooting reigns supreme. In his first eight seasons in the NBA, Lopez hit three shots from behind the arc. Yes, only three made 3pt baskets. In the past two seasons, Lopez has hit 246 three-pointers. He has changed from a pick-and-roll center to a purely pick-and-pop player. Credit to Lopez for changing his game completely and creating a shot that forces defenders to cover him on the outside.
Lopez's style fits in certain situations and the case can be made that the Lakers are one of them. Whilst his lack of speed hurts their run and gun style on the fast break, their set plays are improved with him in the game. His three-point threat opens up the floor for his Laker teammates to cut the basket and even dish back out to him if a defender collapses. His lack of work on the glass is covered by rebounding guards Lonzo Ball and Kentavious Caldwell-Pope who more than make up for his low totals on the boards. Lopez only signed on for one season with the Lakers so he will more than likely be wearing another team's uniform in 2018-19 but his impact in LA will be remembered fondly by fans.
Kentavious Caldwell-Pope
Age: 24
Stats: 74 Games, 33.2 MPG, 47% FG, 13.4 PPG, 5.2 RPG, 1.4 SPG
KCP polarises fans of the Lakers and fans of basketball. He has all the assets to be a successful player in this league but his attitude and off-court indiscretions hurt him. Caldwell-Pope is hands down the Lakers' top defender, he was brought in as a short-term fix for LA's defensive issues and he did that to the best of his abilities. His offence leaves a lot to be desired though with streaky shooting and a lack of awareness similar to that of former Laker Nick Young. When on top of his game, KCP can explode for 30+ points with his ability to draw fouls and heat up from behind the arc. Scoring outbursts like that often carried the Lakers' to big wins but these performances were few and far between. Evident by his 13.4 PPG average, KCP did not heat up on offense enough for the Lakers and would get lost amongst the likes of Kuzma, Ingram and Randle for shot opportunities.
Due to his $18m, one-year deal, KCP was likely only going to be on the Lakers' roster for one season and often his attitude showed that, highlighting a lack of enthusiasm for the cause. Whether it is a lackadaisical or quiet manner, KCP's play always came into question because of it. But as a defender, his effort was always top class and the few games he missed hurt the Lakers. There was a reason that for all 74 games KCP played, he started. He may not be remembered fondly if this season turns out to be his last in purple and gold, but his age profile and defensive work ethic would fit into the Lakers future, he just needs to accept less money.
Josh Hart
Age: 22
Stats: 63 Games, 23.2 MPG, 55% FG, 7.9 PPG, 4.2 RPG
The self-professed 'King of Fortnite' Josh Hart, grew to experience much more fame than he would have anticipated from his rookie season. He floated a question on Twitter to find out if he was more well known for his success playing the video game Fortnite or playing basketball. The result was in favour of his skills on the court and so it should have been as his rookie season was one to remember.
Hart had a quiet start playing few minutes and suffering injuries that restricted his early development. However, it would be injuries to teammates that opened the door for Hart late in the season. The rookie began to be more involved in the rotation before earning a starting position in numerous games after the all-star break. Hart has the makings of a strong role player that could develop into a volume scorer. He works hard on defence and is a coach's dream with his versatility. With more opportunity, Hart could become a starting shooting guard for the Lakers in 2018/19 or he could slip into the role of a bench impact player. Either way, his progression will be interesting to watch.
Tyler Ennis
Age: 23
Stats: 54 Games, 12.6 MPG, 48% FG, 4.1 PPG, 1.9 AST
After playing at four different teams over his first three seasons in the league, Tyler Ennis was never able to get any continuity in his game. That was until this season where he played a career high 54 games including numerous starts. Whilst these numbers were often due to injuries to Lonzo Ball and Isaiah Thomas, Ennis performed well as the Lakers' 'Mr. Fix It'. Never one to rack up big point totals (season high of 22), Ennis would help the team in other ways and developed leadership skills despite being quite young himself. Ennis is a player that teams won't fight over but he is a durable point guard that can play a role off the bench.
Travis Wear
Age: 27
Stats: 17 Games, 13.4 MPG, 32% FG, 4.4 PPG, 100% FT
Travis Wear set the world on fire in the NBA Summer League. Whilst it was mainly G-League players and draftees competing, his three-point percentage was of an elite standard, showing his determination to play at the top level. The stretch four competed hard in the second division for most of the season until a spot opened up on the Lakers' roster for him. Wear came in with little fanfare and only hit double digits for scoring on two occasions but it was his team-first approach and floor spacing that made him a great fit for the group. Whilst his place on this list may seem too high for his statistical output, the way he exceeded expectations justifies his position. Wear looked destined for a career in the G-League but after his solid 17 games, he may find himself on a roster next season, bringing his strong inside-outside game to a playoff contender.
Isaiah Thomas
Age: 29
Stats: 17 Games, 26.8 MPG, 38% FG, 92% FT, 15.6 PPG, 5.0 APG, 2.1 RPG
IT is one of the league's elite players but his 2017/18 season was one to forget. Thomas is perennially underrated and under-appreciated, he has been since he was drafted with the last pick in the 2011 NBA draft. In the 2016/17 season, he averaged an incredible 28.9 points per game (#3 in the competition), was an All-Star and finished top five in the MVP voting. He single-handedly turned the Boston Celtics organisation around within the space of three seasons and after his incredible 16/17 season, he was traded away.
The trade shocked everyone, none more so than Thomas and things got worse after the deal. Thomas had hip surgery, barely played a game for the Cavaliers and then was traded to the Lakers for a couple of role players – a big step down from how much the Cavaliers gave up to get him. Thomas showed LA glimpses of the star he once was. He could heat up quickly and hit consecutive clutch threes, he could beat any defender off the dribble and score under the ring despite his tiny stature and he could hit free throws at an incredibly high percentage. However, IT was often coming off the bench and couldn't control the game like he wanted to.
In Boston, Thomas ran the show but the Lakers play a fast-paced, team-orientated brand of basketball which Thomas didn't seem to fit. His inability to switch onto taller defenders made him a nightmare for coach Walton on the defensive end and he was privy to the odd tech foul that cost the team dearly. Hopefully Isaiah can get back to his best next season and find a team that suits his game style.
Alex Caruso
Age: 23
Stats: 37 Games, 15.2 MPG, 43% FG, 3.6 PPG, 2.0 APG
AC had a similar season to Ennis in that he filled holes when the team needed him to. He hopped between the G-League and the NBA, showing the benefits of the two-way contract that allowed him to compete for both. He was a pass-first point guard that fit in well with a team full of scorers. He may look like a guy on the wrong side of 30, but at only 23, Caruso has a lot to offer in the NBA and will only get better with experience. A bigger role on a suitable team in 2018/19 could see Caruso develop into a Ricky Rubio type point guard.
Ivica Zubac
Age: 20
Stats: 43 Games, 9.5 MPG, 50% FG, 3.7 PPG, 2.8 RPG
Ivica Zubac was hurt by the fact that Lakers' management wanted to see the team improve rather than bottom out for another season as they rebuild. Despite the franchise likely set to rise in the future with their young core, Magic Johnson and Rob Pelinka were adamant that the Lakers would be competitive in 2017-18 and signing the likes of Brook Lopez and Kentavious Caldwell-Pope were short term fixes made to improve the season record. Evident through the one year deals for both the players, Lopez and KCP were not signed for the future. The former's signature was the most expensive and the most frustrating for the likes of Zubac. Without Lopez, there could have been a case for Zubac to be the Lakers' starting center for the 2017-18 season.
This was not to be and the seven-footer was forced to bounce between the G-League and the Lakers' bench for most of the season. Zubac did manage 43 games but his minutes were limited due to Lopez playing bulk minutes each night. This was most frustrating for 'Zu' as he had a relatively injury-free season and would have benefited greatly from playing all season with the Lakers' first team to jell with his teammates. The Croatian is only 20 years of age so he still has time to reach his potential but another season spent mostly in the Lakers' reserves could see his NBA career cut short.
Andre Ingram
Age: 32
Stats: 2 Games, 32.0 MPG, 12.0 PPG, 3.5 APG, 3.0 RPG, 1.5 SPG, 1.5 BPG
The best story of the Lakers' season and arguably the best of the NBA season to date. Despite playing only two games, Andre Ingram earns his place on this list due to the sheer perseverance it took him to get to the NBA. After going undrafted in the 2007 NBA draft, Ingram signed with a G-League team with the belief that it would be the best pathway for him to achieve his NBA dream. Little did he know that dream would be achieved over 10 years later.
At age 32, Ingram became one of the oldest rookies in NBA history and set the world on fire with his 19-point debut game. Ingram playing for the Lakers was a big enough story but his incredible performance against the Rockets took the NBA by storm. With the lottery-bound Lakers taking on the team with the best record in the association, the match was the definition of a dead rubber. But the game was turned on its head when Ingram checked in for the first time. The 32-year-old hit his first four shots, three of which were from behind the arc, dragging the Lakers back in the contest. Despite the underdog Lakers ultimately losing, Ingram was by far the best player on the court and provided highlights that fans could salivate over.
His ugly jump shot and awkward running style, both of which arguably prevented him from ever playing in the top league before, were quickly forgotten as he put a smile on every true NBA fan's face. Hopefully this late-season cameo sees Ingram given more NBA opportunities in 2018-19 and beyond
Corey Brewer
Age: 32
Stats: 54 Games, 12.9 MPG, 3.7 PPG, 45% FG, 1.7 RPG, 0.8 APG, 0.8 SPG
Corey Brewer's best basketball is exciting to watch and makes him a handy asset for any team. However, his worst is much more frequent now that he is on the wrong side of 30. Brewer's quality performances were few and far between for the Lakers in 2017-18, highlighting his decline into mediocrity. Brewer was a solid role player at times and his hustle plays would go unnoticed, but the 32-year-old just did not contribute enough to justify the minutes he was taking away from younger players. Brewer was rarely injured and suited up for 54 games for the Lakers before he and the team mutually agreed to part ways mid-way through the season. He polarised fans with his inconsistency and was merely the wrong fit for the youthful Lakers. Brewer is now plying his trade with the playoff-bound Oklahoma City Thunder, a better fit for his veteran presence. He is not setting the world on fire for his new team, rather playing a solid role which is a far cry from the player that once scored 51 points in an NBA game.
Thomas Bryant
Age: 20
Stats: 15 Games, 4.8 MPG, 38% FG, 1.5 PPG, 1.1 RPG
Not dissimilar to Zubac, Thomas Bryant was hurt by the Lakers' more high-profile signings at the center position, with the likes of Brook Lopez and Andrew Bogut commanding the minutes at the start of the season. When Bogut was released, minutes opened up for either Bryant or Zubac but it was the latter who was given the opportunity in purple and gold. Bryant only managed 15 games for the Lakers, but not for lack of trying as his season for the South Bay Lakers in the G-League was full of promising signs. The rookie averaged 19.7 points and 7.3 rebounds per game in basketball's second division, earning himself a place in the All-NBA G-League's first team. Whilst Bryant's strong play is encouraging for Laker fans, it is his enthusiasm that the LA faithful have quickly grown to love. Bryant's passion after every block, dunk or highlight play is clear to see and his youthful exuberance is a refreshing sight for the success deprived Laker nation. Even when suiting up for the Lakers' first team and spending most of the game on the bench, Bryant is first to his feet after a basket, supporting his teammates and waving towels. The young Laker is hopeful of becoming a star but knows his time in the NBA may be short, so he makes the most of every minute.
Andrew Bogut
Age: 33
Stats: 33 Games, 9.4 MPG, 68% FG, 1.6 PPG, 3.4 RPG, 0.6 BPG
What looked to be a questionable signing at the start of the season proved futile as Bogut was cut by the Lakers at the midpoint of the campaign. Whilst the Australian center was a dominant defensive force in his tenure with the Milwaukee Bucks and a valuable asset in the championship run with Golden State, injuries have since plagued the twilight years of Bogut's career. His 2017-18 season was no different as he battled numerous injury issues en route to a mere 33 games, most of which were to play backup to Brook Lopez. The decision to sign Bogut was an odd one by the Lakers' front office as the former number one pick was signed despite the team already boasting depth at the center position. The big man did offer some leadership and defensive presence but overall he took valuable minutes off young centers Ivica Zubac and Thomas Bryant. Bogut's season in purple and gold was forgettable and unfortunately it will likely be his NBA swansong, not an ideal note to end a quality professional career.
Luol Deng
Age: 32
Stats: 1 Game, 13 MPG, 50% FG, 2.0 PPG, 1.0 APG, 1.0 SPG
Deng could have very well featured in the honourable mentions but his story deserves its own section. Deng's 2017-18 season is a story of pain and professionalism for the former NBA All-Star. The third highest paid player on the Lakers' roster played the first match of the season and never suited up again. Not by choice, injury or suspension but because the Lakers front office decided it was better to give Deng's minutes to younger players.
Deng asked to be traded, but no team wanted to take on the $18m annual salary committed to the 32-year-old until 2020. The former Bull is in nowhere land. Whilst Deng's minutes are better used on the development of Ingram and Kuzma, it is unjust that Deng is forced to watch the game he loves from the side lines every night. He did not have a single injury this season and was forced to travel with the team to all 82 games knowing he would not be putting on the uniform of the team that once upon a time fought so hard to sign him. Outsiders are quick to criticise Deng as he is being paid handsomely to do nothing but the Sudanese-born Laker just wants to play the game he loves and this season, he was robbed of that right.
Key
MPG: Minutes Per Game
PPG: Points Per Game
RPG: Rebounds Per Game
APG: Assists Per Game
BPG: Blocks Per Game
SPG: Steals Per Game
FG: Field Goal Percentage
FT: Free Throw Percentage