First it was the bump, now the tackle could be dead in AFL football.
The passing of one of the game's most exciting facets is arguably the biggest ramification from the Nic Naitanui suspension.
The West Coast ruckman was handed a one-game ban for a rough tackle on Port Adelaide's Karl Amon that seemed within the rules at the time of the incident.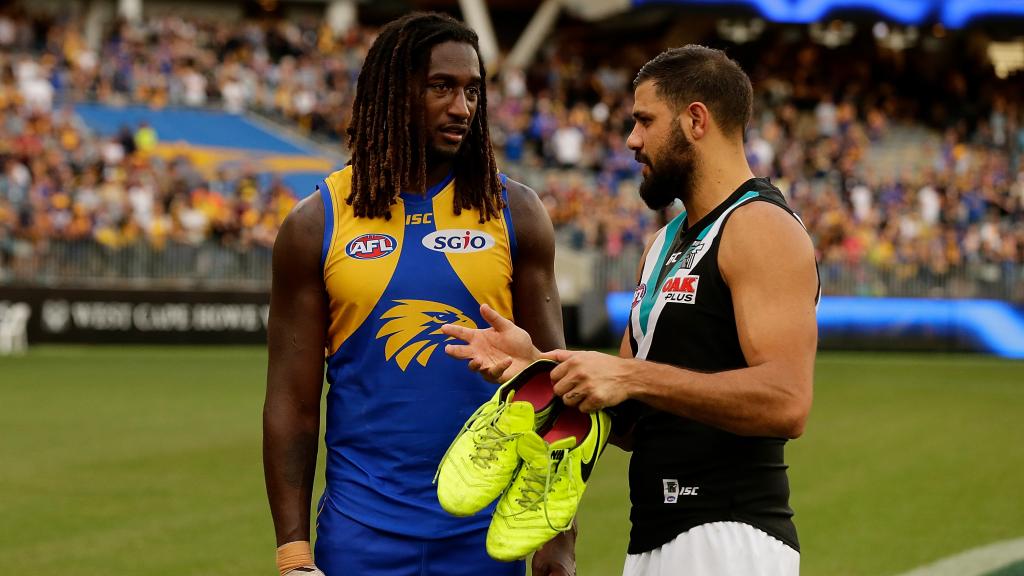 The suspension, handed down by AFL Match Review Officer Michael Christian, surprised fans, players and Naitanui himself.
"I don't think I feel like I need to change anything. There was no malice in it. There was no aggression," Naitanui said.
"It was just a tackle, I guess, and that's part of our game. It's been part of our game since day one."
Vision of Naitanui's tackle on Amon.

Nic has been offered a one-match suspension. pic.twitter.com/965JHDmsQW

— West Coast Eagles (@WestCoastEagles) May 7, 2018
The tackle would have hurt Amon, there is no doubt about that but AFL is a contact sport and with this suspension, it seems as if Christian wants to rid the game of that label.
The impact of the tackle comes down to the size difference of the players and had Naitanui been tackling a larger player, this incident wouldn't be a topic of conversation.
Like many fans of the game, I want the rules to bring fairness but the lack of consistency is alarming if suspension decisions come down to the size of the players involved.
Gleeson: What do you weigh, Mr Naitanui?#Naitanui: About 110kg.

Gleeson: What about Mr Amon?#Naitanui: I would guess about 80kg.

— West Coast Eagles (@WestCoastEagles) May 9, 2018
As a ruckman, I understand the difficulties in competing against smaller players and trying to accomodate when tackling or bumping.
Like many tall players, I have found it difficult to avoid giving away the odd high tackle or high bump in the heat of the moment but to suspend a player for tackling a smaller player is unfathomable.
The MRO claimed that Naitanui did not show a duty of care to Amon.
Is it Naitanui's job to show a duty of care and calculate weight differential in the split second before tackling?
Even if the Eagles ruckman decides that his tackle may hurt his opponent, is he supposed to just let him go and in turn, negatively impact his team's chances of winning?
So the message the last few years has been centred around choosing to tackle rather than bump. Now Michael Christian says to bump rather than tackle. Confusing.

— Rudi (@RudiEdsall) May 9, 2018
After hearing of his suspension, Naitanui was dismayed by the result.
"If I was seeking to go out and hurt someone … I wouldn't be as disappointed," Naitanui said.
"But because it was just an act that I'd done for the past 10 years of my career, I was left a little bit dumbfounded to a degree."
Suspensions have been handed down for dangerous tackles before, slinging and pinning the arms are understandably reportable offences but Naitanui performed a single action and did nothing outside the rules.
A little staggered by those claiming @NicNat intentionally tried to hurt Amon. If he's unable to tackle in the same way as players of other body shapes/sizes then may as well consider crossing codes now – the world's gone mad #afl

— Caty Price (@caty_price) May 9, 2018
Former St. Kilda forward Nick Riewoldt was bemused by the suspension, fearing that players will now question whether tackling is the right decision to make in a game.
"He didn't sling. It wasn't a spear tackle. Both arms weren't pinned — one arm was free. Are we serious?" Riewoldt said.
"I feel for the players. What are they meant to think when there is a split second to make a decision?"
The precedent set by the suspension not only impacts the players, as the game is now set to be much more difficult to officiate.
Umpire's face a wealth of criticism already but they will now have to make harsher decisions on tackles that were previously deemed as fair.
Do they penalise every ruckman that uses his size to impact the game? Do they report every tackle where the player gets hurt – even if it is legal? Who gets the free kick when a player is caught holding the ball but the tackle seems too rough?
These are all questions that umpires will find very difficult to judge in the high-speed environment of an AFL match.
Football did not need this, especially during a time when the game is under immense scrutiny from fans about the state of play.
Dermott Brereton voiced his concerns for the game with low scores and a higher focus on statistics making the game less enjoyable.
"I watch it and appreciate how good (the players) are for what they do but I don't love it as a spectacle anymore," The former Hawk said on SEN.
Brereton claims the game was better during his playing career, for players and fans.
The tackling, bumping and physicality is one thing that connected today's game to its roots of a being a high-contact sport.
Many of the critics claiming that football was better in the '80s and '90s hold that belief because of the over-adjudicating in today's game.
Players who competed in those eras such as Malcolm Blight, Leigh Matthews and Brereton have voiced concerns about the declining fan interest in AFL.
Whilst there are opposing views and many current players and coaches refuted the comments of those AFL legends, there is some validation for them through the Naitanui suspension.
The precedent that has been set will do more harm than good for AFL football.