The Carlton Football Club of the pre-millennia was forever associated with one word – success. The old, dark, navy blues of Princess Park won eight premierships over a 40-year period between 1965 and 1995, so it is understandable why many of the Carlton faithful are losing hope in their beloved team returning to being a powerhouse of the AFL once more.
However, Dscribe reporter Philip Jurkovsky believes success is just around the corner for coach Brendan Bolton and his baby blues.
There is no hiding the fact the Blues are heavily invested in a total rebuild of the club. The word 'rebuild' sends shivers down any supporter's spine as the term typically coincides with half a decade of pain and suffering for the supporter base. That certainly seems apparent down at Ikon Park, with Carlton only mustering together two victories during their 2018 campaign, handing them the honours of taking home the contemptuous wooden spoon.
In the last four years, the Blues have finished 18th, 16th, 14th and 18th, providing the club with a plethora of draft picks in compensation. Bolton and the Carlton board have made it clear that the club is determined to follow through with their rebuild using a methodical and disciplined process.
With Bolton coming across to Carlton, after serving as assistant coach for four-times premiership coach Alistair Clarkson at Hawthorn, there should be no surprise Bolton has mimicked the process put in place by the Hawks that turned them into bottom of the table regulars to three-peat premiers within four years.
Hawthorn initiated an era of dominance at the AFL Draft when they selected premiership players Jarryd Roughhead, Lance Franklin and Grant Birchall in successive years. The Hawks put together a formidable spine when they traded for Josh Gibson from North Melbourne in 2009.
It is becoming more evident Bolton has closely followed Clarkson's formula to success, as the club focused initially on developing a spine to build a solid core around, drafting key position players (KPP) in Jacob Weitering, Charlie Curnow, Jack Silvagni and Harry McKay in Bolton's first year at the helm in 2016. The Blues also managed to acquire 21-year old defender and former number 6 draft pick Caleb Marchbank from the GWS Giants in 2017.
After stocking up on KPPs, the club sought out to fill the list with midfield talent. The Blues, with picks 3 and 10 in the 2017 draft, selected Paddy Dow (who is already been touted as a future star after his debut season) and Lochie O'Brien. Carlton also added class and silk to their midfield when they drafted Sam Petrevski-Seton and Zac Fisher from the 2016 draft-class. When you add David Cunningham, Cameron Polson, Matthew Kennedy and Tom Williamson, the Blues have managed to mix a good combination of midfielders to accompany superstar Patrick Cripps.
There is no need to talk up the prospect of what Cripps will offer once the young players around him develop, given the midfielder was honoured with All-Australian selection in the 2018 squad despite playing for a club on the bottom of the ladder.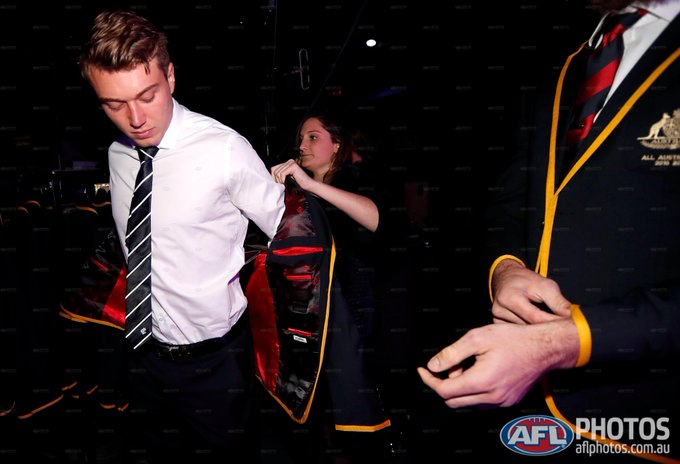 If there is anything the Hawks proved during their premiership dynasty in 2012/13/14, it's that you must seek talent from external sources as well as the draft. Hawthorn set the tone by bringing in players from other clubs through trades and free agency, including Shaun Burgoyne, Brian Lake, Ben McEvoy, Jack Gunston, David Hale, James Frawley and previously mentioned Gibson. Even though the Hawks quite clearly lucked out with their recruiting, it is imperative to go hard at players who can fill potential gaps in your club's list.
The problem with recruiting players from other clubs is having a reason to attract the services of these players. Hawthorn was so successful in luring opposition talent to their club because they could offer them a chance at instant success. Players are more likely to go to a club with a premiership window still open than a club like Carlton who have won only 19 games in 4 years. To put that into perspective, Richmond finished on top of the 2018 ladder with 18 wins.
There is hope for Carlton as Sam Edmund told SEN that the Blues have just about secured 23-year old Adelaide forward Mitch McGovern. Carlton will have the first pick in the 2018 draft, however the club will be paying overs if they part ways with this pick. Despite refusing the compensation of a priority pick earlier in the year, the Blues have softened their stance on receiving the pick that was designed to provide additional help for struggling teams to improve on-field performances. It is predicted Carlton will end up with a priority pick within the first round that could be then shipped off to the Crows for McGovern. This pick-up could potentially kick-start a sequence of important recruits, similar to Hawthorn trading for Burgoyne and Gibson prior to their dynasty.
Port Adelaide star Chad Wingard has also recently made it public that he would like to dip his feet into trade talks, placing a value of $5m over five years for his services. The 25-year old midfield/forward falls under the age bracket the Blues are depleted in, according to Bolton, as the Power star would fit nicely next to Curnow in the forward line. Carlton may be reluctant in paying a million dollars a year for Wingard however, given the former All-Australian came off his worst goal-kicking year since his debut season (22 goals). With many young stars coming through the ranks at the Blues, it would be in the club's best interest to pass on the expensive contract of Wingard, particularly while the club is still down the lower echelon of the ladder.
If Carlton is hopeful of returning to their powerhouse status, they must be disciplined and stick fast through their rebuild by emulating the process put together by Clarkson at Hawthorn. The club must continue to develop their young core, keep their high draft picks and once their list matures, bring in established talent via free agency. It may seem unmanageable, but success is on the way for the Blues.