33-year old former NBA number 1 draft pick – Andrew Bogut, has signed with NBL team Sydney Kings for the 2018/19 season.
The 7-foot NBA veteran Center signed a two-year deal with the Kings on Sunday evening. However the club was forced to delay the exciting news until Monday morning after going against NBL protocol by announcing the contract to the public before being approved by the league.
There was heavy speculation that the Melbourne-born star would sign with the reigning champions Melbourne United, however Bogut will join fellow ex-NBA player and current Kings coach Andrew Gaze to be with his pregnant wife in Sydney.
Bogut has had previous links with the Kings when, during the 2011 NBA lockout, Bogut chose to return home to Australia and play in the NBL for the 2011-12 season. Bogut selected the Kings as his destination team, however the insurance to cover his remaining $39m contract with the Bucks could not be resolved, leaving the Kings and the NBL without the NBA star's on-court presence.
Bogut was on a reported $11m on his final contract with the Lakers, and although the Kings were unable to match his high salary, the 33-year old was lured home with his deal resulting in part ownership of the club.
. . .
Bogut's Basketball Career Snapshot
Selected by the Milwaukee Bucks with the first overall pick in the 2005 NBA Draft, becoming the first Australian player to be drafted number one overall.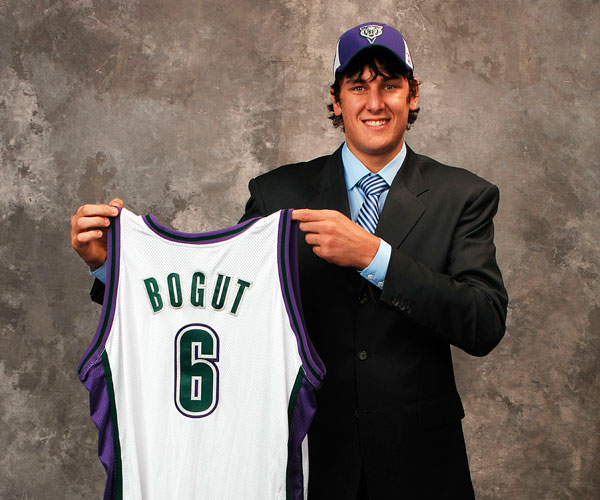 April 2010 – Bogut suffered a broken hand, dislocated elbow and sprained wrist, injuries that kept him out of for the remainder of the 2009–10 season.
***WARNING GRAPHIC FOOTAGE***
March 2012 – Bogut traded to the Golden State Warriors.
Bogut and the Warriors win the 2015 NBA Finals after defeating the Cleveland Cavaliers in six games.
July 2016 – Bogut traded to the Dallas Mavericks.
March 2017, Bogut signed with the Cleveland Cavaliers. Four days later, Bogut broke his left leg 56 seconds into his Cleveland debut.
https://www.youtube.com/watch?v=-NaLZIyDp2w
September 2017 – Bogut signed with the Los Angeles Lakers.
January 2018 – Lakers waive Andrew Bogut
April 2018 – Signs a 2-year deal with the Sydney Kings.
. . .
Andrew Bogut's Top 10 Plays of his Career
Sydney Kings fans will have a lot to look forward to with their star signing. Here is Andrew Bogut's best career plays thus far.
. . .
Twitter Reactions
Bucket list: Bridge climb.

— Andrew Bogut (@andrewbogut) April 22, 2018
Andrew Bogut officially retired from the NBA. What a career. His legacy as an all-time Australian great is secure.

— Nick Metallinos (@NickMetallinos) April 24, 2018
Watching the Andrew Bogut press conference.. brilliant for the game. Can't help but think of when Del Piero was unveiled.. remember?? The good old days.

— Melanie McLaughlin (@Mel_Mclaughlin) April 24, 2018
The Sydney Kings play in the biggest stadium in the NBL, with Qudos Bank Arena's capacity at around 20,000. I don't think there's any question that signing Andrew Bogut will lead to a whole lot of sold out games.

— Olgun Uluc (@OlgunUluc) April 22, 2018
Andrew Bogut says that part of his negotiations with the Sydney Kings was to ultimately become a major shareholder. He has 10%, as part of this deal. He eventually wants 50%.

— Olgun Uluc (@OlgunUluc) April 24, 2018
Andrew Bogut also confirms he has committed to the 2019 FIBA World Cup and 2020 Olympics for Boomers. Signing with Kings helps with this. #FIBAWC #Tokyo2020

— Roy Ward (@rpjward) April 24, 2018
https://twitter.com/NBL/status/988555841274982400