British actor, comedian, screenwriter and producer Sacha Baron Cohen is best-known for his provocative, satirical style of comedy and his characters: Borat, Bruno and Ali G. So there should be no surprise that his new show 'Who is America?' sparked immediate controversy after the first episode of the series aired in the U.S.
The show is based on four fictional characters, all created and portrayed by a heavily disguised Cohen. In character, he interviews notable public figures throughout the American political system, but they're unaware the interviewer is in fact the British actor.
The first episode saw Cohen disguised as Erran Morad, an Israeli anti-terror expert who claims to be "The Terrorist Terminator". Cohen dressed as Morad convinced two Republican congressmen to back a fake Israeli program called Kinder Guardians – aimed at arming children in schools with guns to protect themselves during school shootings.
Former congressman Joe Walsh was filmed saying, "The intensive three-week Kinder Guardian course introduces specially selected children from 12 to 4 years old to [guns]. In less than a month a first grader can become a first grenadier… Happy shooting, kids."
Moments after the show aired on July 15, Walsh was challenged on his appearance by national security lawyer Bradley Moss on twitter.
What can I say Bradley? @SachaBaronCohen got me. Do I believe kindergarteners should be armed? Hell no.

But, it's on me. Sacha fooled me good. Flew me out to DC for some made up friend of Israel award. I gotta live with it. https://t.co/r4juubOG9l

— Joe Walsh (@WalshFreedom) July 15, 2018
The former congressman claimed he thought he was "getting an award from some Israeli TV station because I'm a great supporter of Israel" and that he felt duped into saying things such as "Happy shooting, kids".
Congressman Dana Rohrabacher, who was also interviewed on gun control in episode one, immediately lashed out at Cohen, saying the segment was a "sick fraud" and was intentionally deceptive.
"At no time did I endorse training toddlers in handling guns. Nor was the idea even presented to me directly. If it had been, I would have rejected it," he said.
Former Governor of Alaska Sarah Palin will feature in one of the remaining six episodes of the series, admitting she was "duped" by Cohen in a Facebook rant slamming the comedian. Palin wrote, "I join a long list of American public personalities who have fallen victim to the evil, exploitive, sick 'humor' of the British 'comedian'."
Of the footage of her interview with the disguised Cohen, Palin said "experience tells us it will be heavily edited, not pretty, and intended to humiliate".
Cohen publicly responded in character as wounded US veteran Billy Wayne Ruddick Jr, PhD, one of the four fictional personas featured in the series.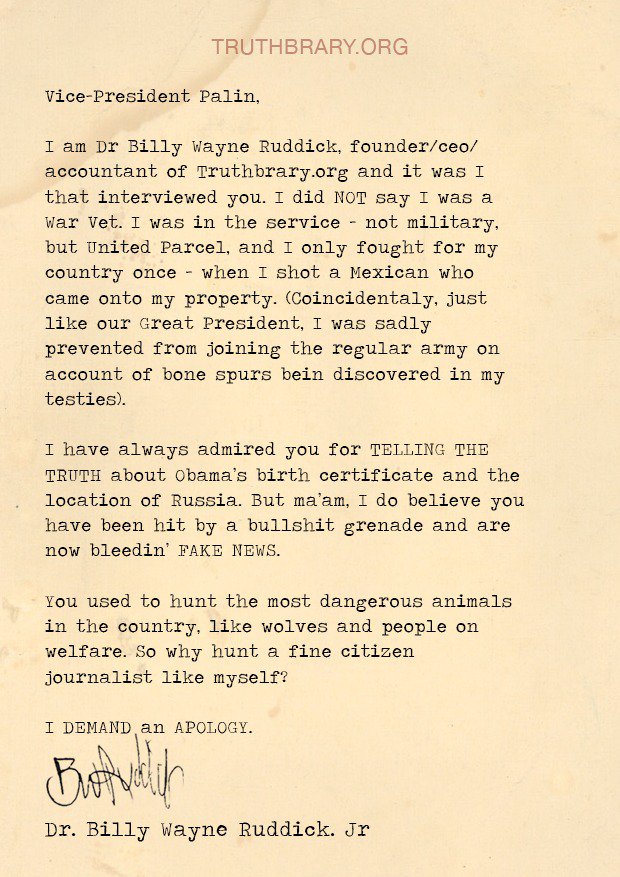 American politician and former Chief Justice of the Supreme Court of Alabama Roy Moore is another of the unsuspecting individuals interviewed by the disguised Cohen. Moore made headlines in 2017 after sexual misconduct allegations against him then faced an internet backlash over comments when he said America was last great when the country had slavery.
Moore told Variety Magazine, "I am involved in several court cases presently to defend my honor and character against vicious false political attacks by liberals like Cohen. If Showtime airs a defamatory attack on my character, I may very well be involved in another."
"As for Mr. Cohen, whose art is trickery, deception, and dishonesty, Alabama does not respect cowards who exhibit such traits! It's been a long time since I fought for my country in Vietnam. I'm ready to defend her again!"
However, Cohen is no stranger to legal battles, heavily sought after in court by interviewees in the popular 2006 film Borat but the majority of those claims failed.
Entertainment and intellectual property lawyer Zachary Elsea says Cohen's 'victims' face an uphill battle. "Most of the lawsuits spawned by Borat and Bruno a decade ago were thrown out in their infancy. This is due in part to clever lawyering by Cohen's attorneys, and in part due to longstanding legal doctrines protecting free speech and expression," Elsea wrote in The Hollywood Reporter.
Sacha Baron Cohen will likely face further backlash as the series continues but you get the feeling that is exactly what the British comedian wants.